Your Dependable Team for AC Maintenance in Fredericksburg, VA
Whether your home is equipped with a traditional central cooling unit, mini-split systems, or some combination of the two, ALCO HVAC is standing by to provide scheduled and unscheduled maintenance to keep everything running smoothly. Regular AC maintenance in Fredericksburg, VA, and the surrounding areas is available and covers systems of all brands and styles.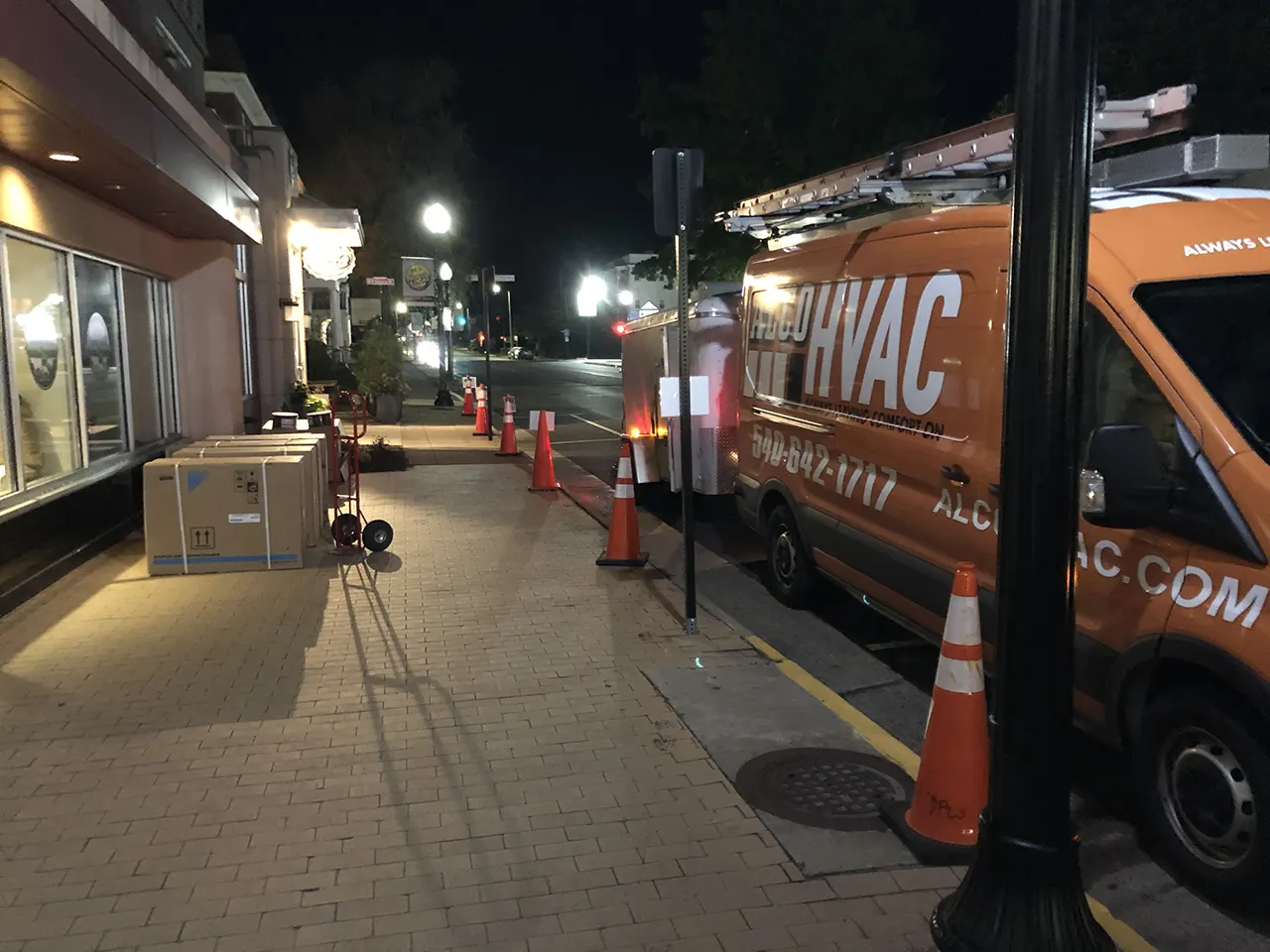 How Often is AC Maintenance Required?
We generally recommend a comprehensive annual AC unit maintenance service visit in the spring to ensure that your system is ready to perform. Filters should also be replaced every one to three months to promote efficient operation and prevent excessive dust build-up from damaging the unit.
Common AC Problems That We Look For
When conducting a yearly central AC maintenance inspection, our personnel always check for low coolant levels, blocked drainage lines, damaged wiring, and faulty mechanical components. In addition, we test the thermostat, fans, shut-off switches, and other moving parts for proper functionality. We inspect the exterior portions of the system for animal nests, plants, or debris that could hamper air flow and also examine the ductwork for signs of leaks, damage, and obstructions.
Critical AC Maintenance Tasks
Keeping filters and ductwork clean and in good repair is vital to the operation of traditional AC systems. Our personnel is equipped to manage these tasks and to top off refrigerant levels, remove foliage from around the system, and clean dirty coils. We also keep a stock of replacement parts on hand so that we're ready to make necessary system repairs when performing our AC tune-ups.
Reasons to Make Us Your AC Maintenance Service Providers
Our established HVAC company has so much to offer local homeowners. We provide flexible appointment options and budget-friendly prices, and we're always willing to go the extra mile in the interest of customer service. We're also experienced at managing a wide range of tasks, and we only use proven techniques and quality replacement parts for all air conditioning services.
Frequently Asked Questions
How does ductless mini split AC maintenance differ from traditional AC maintenance?

Ductless mini-split systems are unique in that they don't utilize extensive duct networks to move air from place to place. Other than that major difference, we can generally follow similar maintenance checklists for both types of systems.

My system has never been inspected, and it seems to be running fine despite being more than 15 years old. Is it too late to start it on a regular maintenance program?

Regardless of the age or condition of your system, it's never too late to seek out our professional air conditioner maintenance assistance.

We just bought a new home and aren't sure who provided the initial AC installation. Do you inspect and maintain systems even if you didn't install them?

Yes, we'll gladly add your home to our list of regular service stops from now on.
Let's See If Your Cooling Unit Is Still In Peak Form
If your cooling unit is due for annual AC maintenance in Fredericksburg, VA, or you're not certain when your system was last inspected and serviced, contact ALCO HVAC today to set up an on-site visit from a member of our highly skilled crew. We also provide: