Trust Us For All Your Home's Heating Services in Fredericksburg, VA
When you need prompt heating services in Fredericksburg, VA, or a nearby area, you don't have to look any further than locally owned and operated ALCO HVAC to find a reputable, dependable team. We handle everything from basic maintenance to complete system installation and replacement. 
Which Type of Heating System Do You Have?
Most homes in this area are equipped with traditional furnaces that are fueled by electricity or natural gas. Heat pumps that operate as reverse air conditioners are also relatively common. Some older homes may still utilize hot water or steam boilers with radiators while modern, energy-efficient structures may be outfitted with geothermal heaters that concentrate the warmth found in groundwater. No matter the kind of heating system you have, our team can expertly work on it.
Advice on Maximizing Your Heating System's Service Life
Routine heating maintenance performed by a skilled HVAC professional is one of the best ways to promote a long life for your system. Keeping the ductwork clear and staying on top of scheduled and unscheduled heating repair services are also great ways to preserve your heating unit's long-term functionality.
The Advantages of Professional Services
When you choose our experienced crew to provide heating maintenance and repairs, you'll be served by dedicated personnel who are knowledgeable about all aspects of this highly specialized industry. We also have access to quality parts and are familiar with proven service techniques that will prevent downtime and promote efficient system operation.
Common Residential Heating Issues
If you notice a persistent burning smell, detect the aroma of natural gas or hear strange noises when your system is running, you should contact our crew to book a service visit. We're also ready to respond quickly if your system stops working altogether. Systems that are experiencing repeated or ongoing problems may be good candidates for complete heating replacement instead of simple repairs.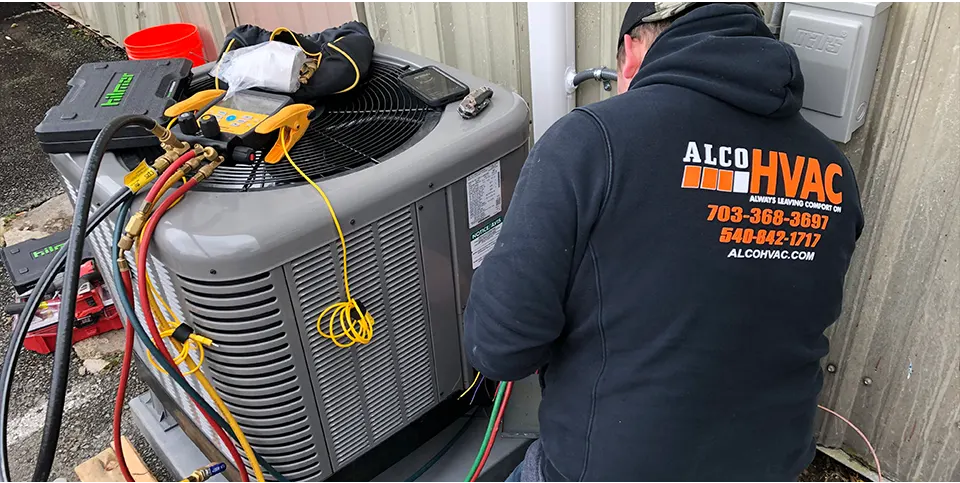 Traits to Look For in a Heating Service Provider
A few things that every homeowner should seek out in a heating installation and repair company are a great reputation in the local community and fully licensed, insured and qualified personnel. You'll find that ALCO HVAC checks both these important boxes. Our trusted heating company has a long history of service in this area, so you can turn to us with confidence and peace of mind.
Frequently Asked Questions
How often should heater maintenance be performed?

We generally suggest that you schedule a service visit at least once a year to ensure optimal operation.

What's the best temperature for heating my home?

Most homeowners find that keeping their thermostats set to around 72 degrees offers indoor comfort without unnecessary expense or wasted energy.

I want to change over from an old-fashioned furnace to a more energy-efficient heating unit. When is the best time to do this?

An ideal time to make the switch would be when your current system is nearing the end of its useful life. If that's still far in the future, we'll be glad to consult with you in more detail about all your available options.
Experience Heating Solutions From The Best in the Industry
The next time your home's heater needs maintenance, repair, replacement, or any other services, contact ALCO HVAC. Call us or fill out the form to schedule an appointment right away.