A Focused Approach to Water Heater Repair in Fredericksburg, VA
An efficiently operating water heater is an asset to any home, but a unit that's leaking, damaged, or broken down can quickly become a liability. ALCO HVAC is here to provide water heater maintenance to prevent ongoing problems, complete replacement of units that have outlived their usefulness, and water heater repair in Fredericksburg, VA, and nearby areas.
The Need for Our Professional Water Heater Repair Services
Water heaters are expensive, and water heater replacement can be a difficult, time-consuming process. Making repairs to a water heater to keep it running efficiently for as long as possible is almost always the best, most cost-effective option. If we do determine that repairs are no longer possible, we're fully prepared to remove and replace the problematic water heater unit in the fastest, least destructive manner possible.
Frequently Encountered Water Heater Problems
Like all plumbing appliances, traditional and tankless water heater units are prone to developing leaks due to corrosion or age. Water heaters also contain heating elements and thermostatic controls that can fail over time. Limescale, rust, and sedimentation may reduce a water heater's ability to create and distribute heated water, and the tanks themselves can harbor bacteria or fungi if the right conditions are present.
Signs You Need Water Heater Repair or Replacement
Unexplained puddles or water damage near your water heater are indications that a visit with a plumber in Fredericksburg, VA, from our team is in order. Additional trouble signs to look out for include strange noises and a reduction or interruption in the supply of hot water coming from the unit.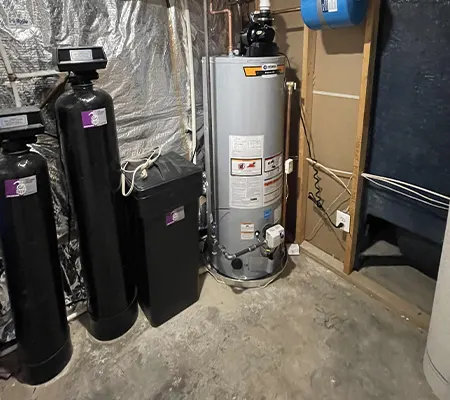 The Benefits of Periodic Maintenance
Water heaters of all brands and styles operate more efficiently when they're regularly maintained. Routine tank or tankless water heater maintenance can also reduce energy usage and prolong the unit's operational life.
Why Make Us Your Trusted Water Heater Repair Company?
You won't have to worry about receiving second-rate work or poor-quality parts and components when you hire us to take care of your water heater because we place a high value on great service and dependable results. Our trusted plumbing company is also ready to respond quickly when called on for help and to offer accommodating appointment options for your convenience. We serve:
Frequently Asked Questions
How long does an installation job generally take?

When installing a unit in a home that's under construction, the entire water heater installation can often be completed in just a few hours. Replacing an existing water heater sometimes takes a little longer due to the logistics of working around existing home furnishings and fixtures.

What's the best temperature for my water heater?

We generally recommend a setting of between 120 and 140 degrees Fahrenheit.

How can I make my water heater more energy-efficient?

Turning the temperature down to 120 degrees, adding insulation, and regularly maintaining the unit can all contribute to more efficient operation.
Turn to Us For Water Heater Services
For professional water heater repair in Fredericksburg, VA, contact the reliable crew at ALCO HVAC. Set up a visit at your location today by calling us or filling out the online form. We look forward to hearing from you.